Nyabihu Demonstration School for the Deaf (https://nyabihucenterforthedeaf.weebly.com/) is located in the Western Province of Rwanda, very near to the Virunga National Park, where the mountain gorillas live. The location is around 3,000 metres above sea level and the weather can vary a lot! Sometimes it is very hot and dry and, at other times, cold and wet.
The school was started by Louis Ngabo in January 2013. He is a very experienced teacher of deaf pupils in Rwanda, having worked in this field for over 20 years. He decided that he wanted to start a school in his home district of Nyabihu, where there was no provision for deaf pupils. He started with 32 children.
The only accommodation that he could afford was in very poor condition and he and his two staff worked for two years with almost no pay, so that the children could be cared for. Slowly, he attracted the attention of aid workers who saw what amazing work he was doing with so little resources!
One of his passionate beliefs is that deaf children should be integrated into the local schools as soon as possible. So the system he has set up is that the children are educated at the Centre for 2 or 3 years, when they learn Rwandan sign language and basic literacy and maths skills. He then arranged with the local schools that the deaf pupils will attend the normal schools for the morning session, accompanied by staff who will support them in class with signing and who then work with the pupils back at the Centre in the afternoon, making sure that they have understood the lessons to their ability.
He was able to attract funding through an English Charity, Chance for Childhood, (https://chanceforchildhood.org/), to build a new Centre, which was completed in January this year. The 100 pupils are now living and learning in this new facility, enjoying space to play, clean washing facilities, bright classrooms and dormitories and the staff have purpose built offices.
Life continues to be a struggle though. Government funding is not available for this targeted support for deaf pupils in Rwanda and, though they have had some financial support from other charities, this is not providing the consistent income the school needs.
We in DeafReach have been able recently to offer some much-needed support.
• Through donations we provided the funds for three water tanks for the new buildings – it rains a lot there! - which gives free water.
• We are offering professional development to staff through planned visits of UK qualified personnel. As UK qualified staff, we share our expertise to help bridge the gaps in the professional support available in country.
• On each visit, our team bring their suitcases stuffed with teaching materials, play materials, good second hand clothes, and resources to support their preparation for vocational training and adulthood.
• We are raising money to fund the required basic National Teacher qualification for most of the staff, who have skills in sign language but, as yet, most are not qualified teachers.
• We were able to support a three week visit to the UK for Louis the Founder, and Elie the Head Teacher. The aim of this was to increase their understanding of deaf education and provision in the UK. The visit has been very beneficial in developing important links with deaf groups, schools and professionals in the UK, which we trust will be ongoing.
• Through a generous donation, we are also funding the salary of their IT teacher for two years. Louis had entered, and won, a competition which donated 16 laptops to his school. However, they could not afford to employ an IT teacher. A very frustrating situation.
• Through donations we have also been able to provide mosquito nets for all of the bunk beds.
As you can see from the list, it is the ongoing costs of maintaining the present support for these pupils while continually trying to improve daily lives and their educational opportunities, which is the current pressing need.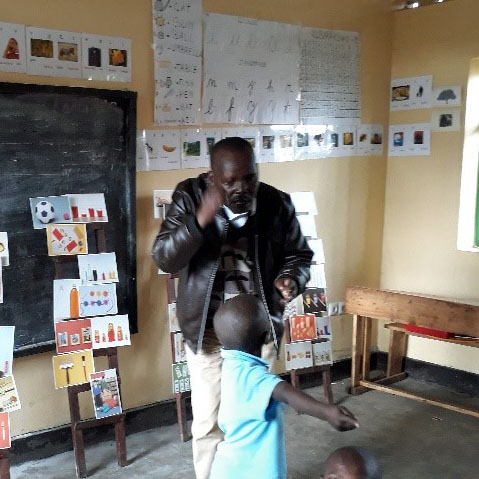 Louis in one of the new classrooms, explaining something in sign to one of the children.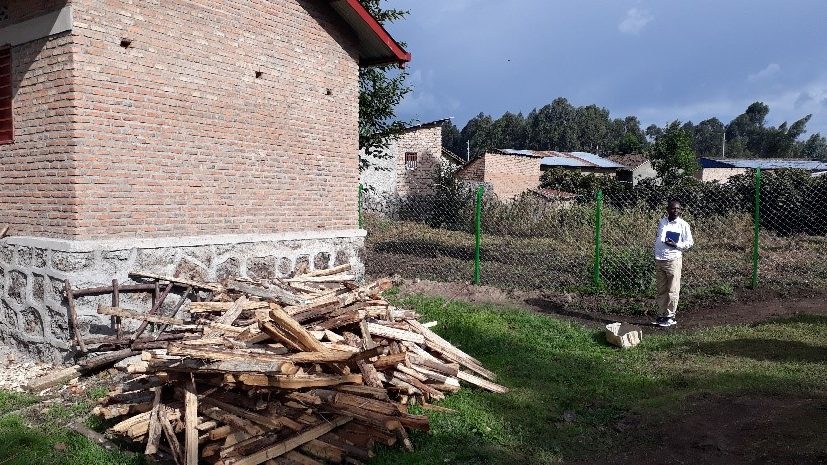 Here is the wood for the kitchen. It would be good to have a gas cooker. The place where the wood has been temporarily deposited is where they would like to build a chicken house.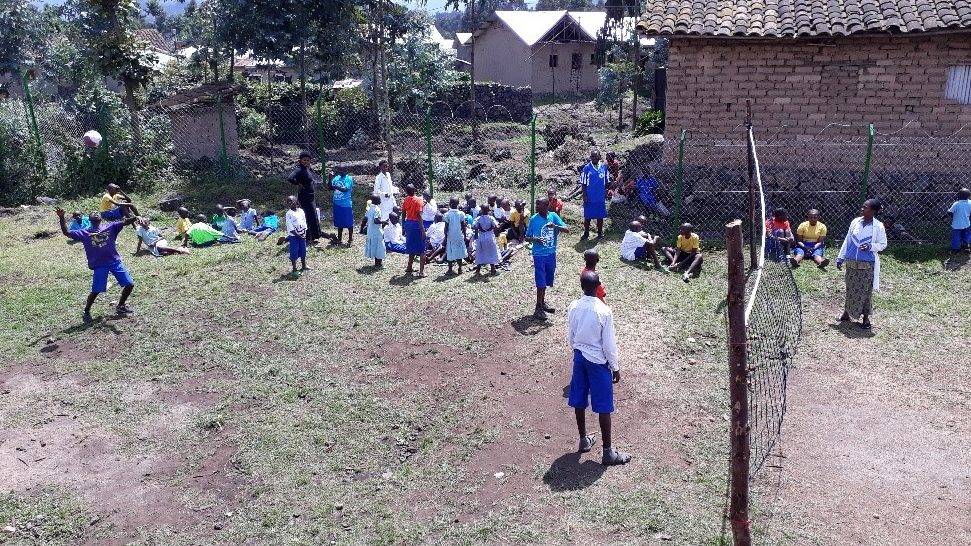 The volleyball court. The children, and staff, love to play! But the ground is not good, and when it rains, the pitch becomes impossible to use.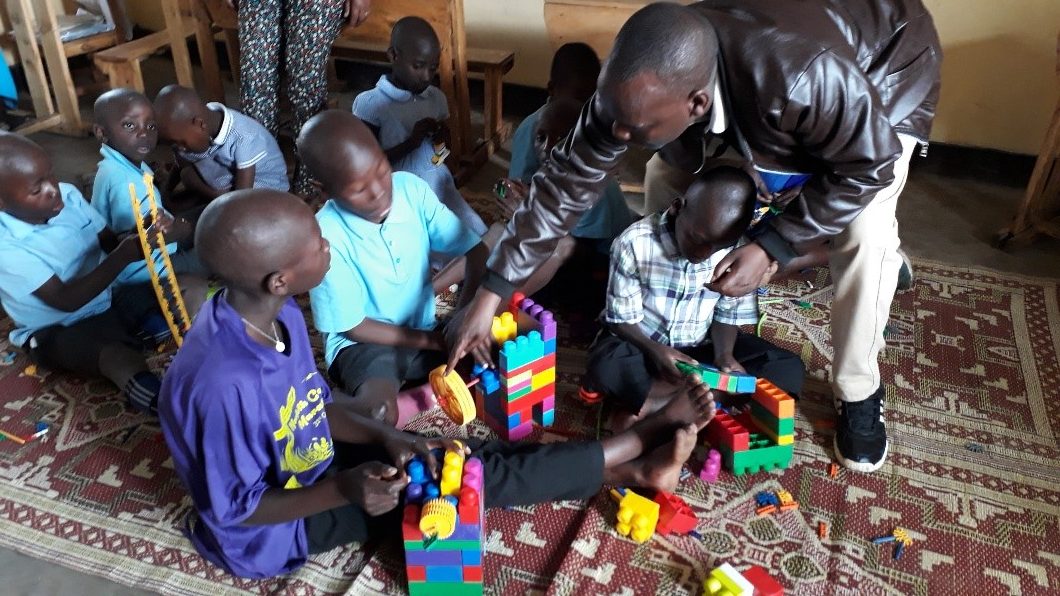 Louis, the founder, enjoying discovering how to play with new toys – they have never seen anything like it before!
Here is a list of smaller and larger project needs to which you may feel able to contribute.
Smaller projects
• Pupils sponsoring – some families have no means to pay the modest fees of £250 per year.
• Teacher sponsoring – the annual teacher's salary is £1,200.
• 10 new sewing machines for our VTC class. One machine costs £ 80.
• 2 new knitting machines. One machine costs £ 200.
• 6 irons for the VTC class. One iron costs £ 20.
Some larger projects
• Construction of a modern cooker for the School. The cost is £ 2,568.
• Chicken and dairy farming. The project, as both a stunting-prevention measure and an income-generation opportunity, would cost £ 3,161.
• Purchase of land near the School as a starting point to our ambitious long-term project for expanding the Vocational Training School (VTC) class into the first inclusive secondary level Technical, Vocational and Educational Training (TVET) School in Nyabihu District. The cost for this is £ 6,000.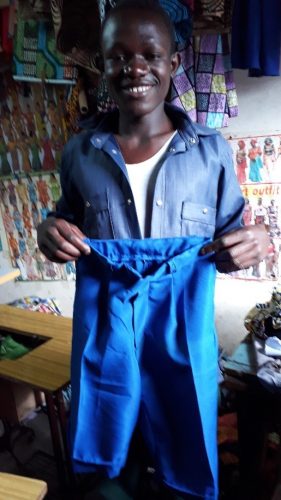 One of the tailoring students who is very proud of the school shorts that he has made.