Our programmes for the remainder of 2019 and for 2020.
RWANDA
REVENUE SUPPORT FOR UMUTARA DEAF SCHOOL
VOCATIONAL TRAINING and LIVELIHOOD PROGRAMMES
TEACHING MATERIALS FOR NYABIHU DEMONSTRATION SCHOOL FOR THE DEAF
PROFESSIONAL DEVELOPMENT COURSES FOR TEACHERS AT NYABIHU AND UMUTARA
In Development
A NEW EDUCATIONAL PROGRAMME FOR DEAFBLIND CHILDREN
A STRATEGY FOR THE DEVELOPMENT OF AUDIOLOGY SERVICES ACROSS THE COUNTRY
BURUNDI
CONTINUING SPONSORSHIP OF CHILDREN AT EPHPHATHA DEAF SCHOOL
SUPPORT FOR THE NEW ASSOCIATION OF PARENTS OF DEAF CHILDREN
In Development
SPONSORSHIP OF CHILDREN AT GITEGA SCHOOL
CONSTRUCTION OF A DEAFBLIND SCHOOL AT GITEGA
DRC
BUSINESS PLANNING FOR THE PROPOSED DEAFBLIND SCHOOL IN GOMA
UGANDA
EARLY YEARS LEARNING PROGRAMME IN UGANDA
BUSINESS PLANNING EXERCISE FOR SIGN HEALTH UGANDA
If any reader would like to support any of the above projects, please get in touch. Or, for small donations, please use the Donate Now button.
VOCATIONAL TRAINING IN RWANDA
DeafReach's main project is the development of the TVET Dept at Umutara Deaf School (UDS) in Rwanda.
In Rwanda, Vocational Training is known as TVET (Technical, Vocational Education and Training). To become registered with Government and, as a result, to be able to offer recognised qualifications, a TVET department must be able to offer 25 places for each of the subjects it teaches. Subjects at UDS include:
· Hairdressing and Beauty
· Tailoring
· Construction and Masonry
The TVET Project at Umutara is in two phases. Phase 1, which is almost complete, is the building of a new dormitory. The second phase is the conversion of two existing dormitories into workshops, the purchase of the necessary equipment and the payment of staff salaries for the first three years. TVET 1 will cost £150,000 of which we have already raised £31,000. Work started on Phase 1 in July 2019 as in the picture taken the following month.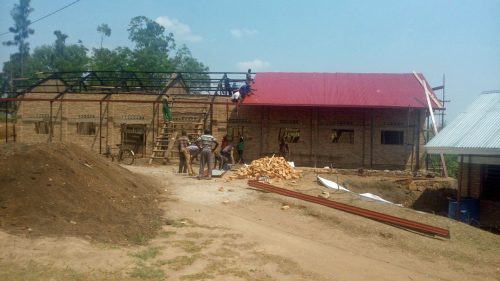 NYABIHU DEMONSTRATION SCHOOL FOR DEAF CHILDREN IN RWANDA
Now that the new school, funded by Chance for Childhood, is up and running, we plan to support it by
Building a beach volleyball court,
Purchasing text books for children in the first three years of schooling, and
Upgrading the kitchen.
PROFESSIONAL DEVELOPMENT IN RWANDA
Our DeafReach Training Team will continue their annual training programmes at Umutara and Nyabihu Schools.
EARLY YEARS LEARNING PROGRAMME IN UGANDA
We will continue to support Signhealth Uganda in providing funds for nursery education in ten schools across Uganda.
AURORA DEAF AID AFRICA
We will continue to support three pupils attending the Ephphatha Deaf School in Burundi. We plan to increase sponsorship both here and at Gitega School. Following a very successful conference held in Burundi during the summer of 2018, we will be supporting the new Association of Parents of Deaf Children. We have also provided the initial funding for a new Vocational Training Programme for deaf school-leavers and adults with the Rwandan National Association of the Deaf to be located at Musanze in the north-west of Rwanda.
A NEW PROGRAMME FOR DEAFBLIND CHILDREN IN RWANDA
Howard, one of our volunteers, is going to undertake a tour in autumn 2019 across the country researching the numbers of deafblind children in the country, with the intention of establishing a deafblind unit at one of the deaf schools. He will be partnered by Eric Ngabo, who works at Nyabihu.
A NEW DEAFBLIND SCHOOL IN THE DEMOCRATIC REPUBLIC OF CONGO (DRC)
Howard will also be working with CENYESED to produce a Business Plan for the establishment of a deafblind school in Goma.
ORGANISATIONAL DEVELOPMENT
In some of the countries in which we work, the level of support provided by the government is very low for charities, schools and further education colleges in the voluntary sector which offer services to disabled children and young adults. All of the organisations with which we work have expressed the need for training in organisational development, business and personnel management, business planning and income generation. Such training is part and parcel of all of the above programmes. 
If any reader would like to support any of the above projects, please get in touch. Or, for small donations, please use the Donate Now button.
For up to date information on our programmes and projects, please see the Newsletters section.